NEVER THOUGHT THAT WE WILL GET A SECOND CHANCE !
This trip was done back on April 2007
Boys have a propensity to believe that they have seen it all and done it all. But they can't be more wrong. It's a small but lonely world out there. The truth lies out there, out of the shelter of our homes, out of the busy streets, far, far away from the maddening crowd where the roads have no name and you are known by only one name – "A Biker". A biker has no name, caste, creed or religion. He only has a machine and the zest to take that machine to places less visited, through roads less travelled. And for this daunting task one needs guts, guts, guts and of course the unquenchable thirst to see the world from a different angle, i.e. off his bikes saddle. They are a new breed of organisms who look and talk like mere mortals but inside them there is a glowing passion which compels them to ride to the hitherto uncharted lands and make a mark for themselves. They need no fame, they need no glory. All they need is a saddle to sit and a throttle to wring and watch the city lights fade in the distance. Some do it for fun, some do it for the sense of achievement, some do it for salvation. But no matter whatever they do it for, they do it for a life that sets them apart from the rest. And that is what separates men from the boys.
The following narration is about four men who took up the daunting challenge of pushing themselves and their machines to the limit in order to drive home a simple point: "Where there's a will, there's a way"! And they made their own way to the roof of the world.
The men:

Indranil Bhattacharyya
23 yrs, IT professional
Machine: Honda Unicorn

Sandipan Ghosh
23 yrs, IT professional
Machine: Bajaj Caliber 115

Rahul Banerjee
23 yrs, IT professional
Machine: Bajaj Pulsar 150 (classic)

Ritwik Sen
23 yrs, Management Student
Machine: TVS Apache 150
The Plan:
Even after having a number of trips under our belt, our list of achievements somehow felt a tad incomplete. The reason... we have visited beaches, river beds, jungles... but there was one feature which eluded us... mountains! Every time we visited hill stations, it was in a four wheeler. But being blue blooded bikers we cared a damn about the cage's comfort and safety. Instead our hearts longed to let our bikes rip through the twisties, the slopes and the slides of the mountain side. Little did we know that the desire to scrap the foot pegs would soon turn into an obsession . One year later here we are busy planning for a trip to Sikkim on our bikes. Soon our long awaited dream would come true. It would be the perfect trip and the most needed addition to our trip portfolio! Sikkim here we come.
The main places we plan to touch: Nathula, Tsongu lake, Yumthang, GurudongmarLake , and Pelling.
There is a saying that pictures say a million words more than words alone... we believe in that. And here's an invitation to a visual treat for all u wonderful people out there.
DAY 01
KOLKATA – DALKHOLA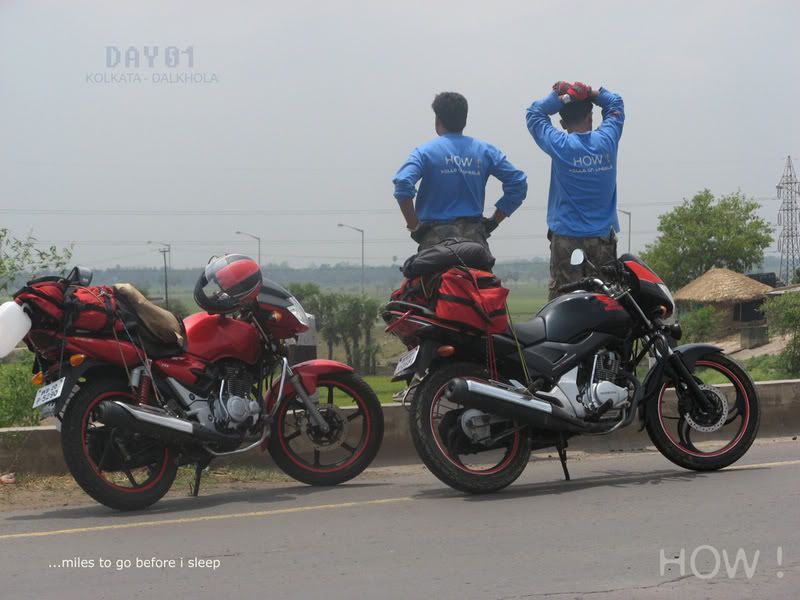 We've started from Kolkata @ 4AM and reached Dalkhola by 6:45PM. Distance was around 470km.
All the while the journey was on the single lane highway congested by mostly three wheelers, cycles and rash driving local buses. These buses don't even bother about others life (not even its passengers). I feel they should be immediately inducted to Formula One circuit, think this is the most optimistic view they ever received!!!
When we reached Maldah at 1:30PM where we were supposed to meet three*Bike**enthusiasts Uday, Parmu and Shahjahan. They accompanied us to a Motel for our lunch. We started from there at 3:30PM. The rest of the road was full of moderate traffic. The road is decent so we cruised at an average speed of 70kmph. We planned our next halt at Dalkhola for evening snacks, but something else was waiting for us…
A goods train broke down on the crossing of NH-34 in Dalkhola. We waited there for nearly 90mins for the train to leave but with no avail. It was nearly 8:15PM by then. We have already rode 470odd km by then and were feeling quite jaded, so we decided to stay at Dalkhola.
Our next ordeal was to find accommodation out there. It was pitching dark and the road in front is blocked!! We started riding through the undulating lanes going through the paddy fields by the side of Highway. What an experience it was, we all four were riding though the paddy field, with no idea where to stay, how will we get back to NH again? While riding with such an eerie feeling we could see headlamp of trucks at the farthest corner!!! "Ah there's the highway!!" shouted one. Yes, it was. We were back again to the NH-34, crossing the mighty long train.
Reliance petrol was on the way; we all saw the A1 Plaza out there and were willing to jump in there to sip a good steamy coffee. After much persuasion those reluctant staff of Plaza let us to stay there at night arranging for 'Khatiyas'. So it was a night under stars by the side of National Highway in the Petrol Pump for us. Thanks to the train!!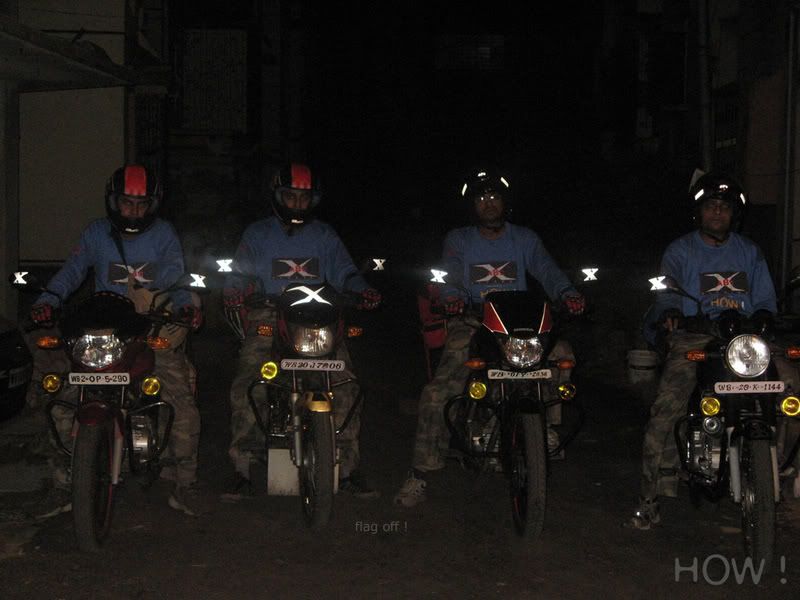 Start of a new adventure !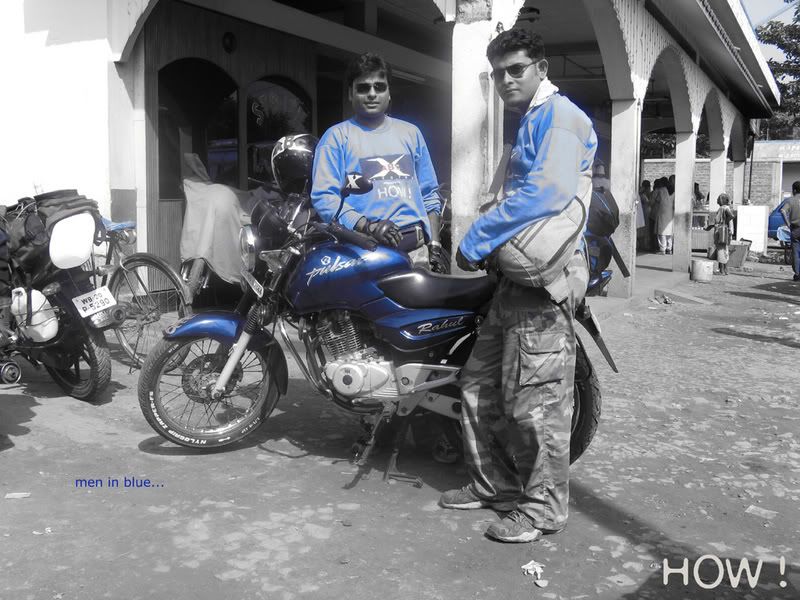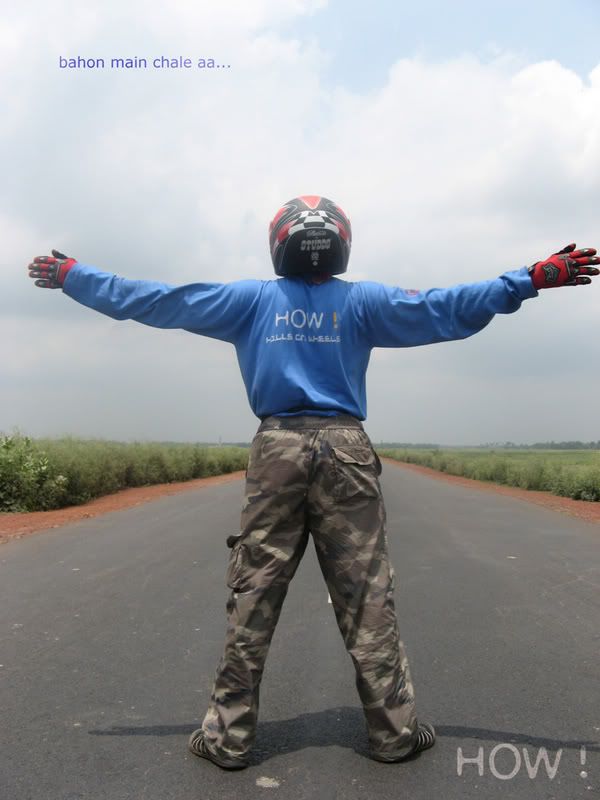 At Maldah, with uday, shahajahan and parmu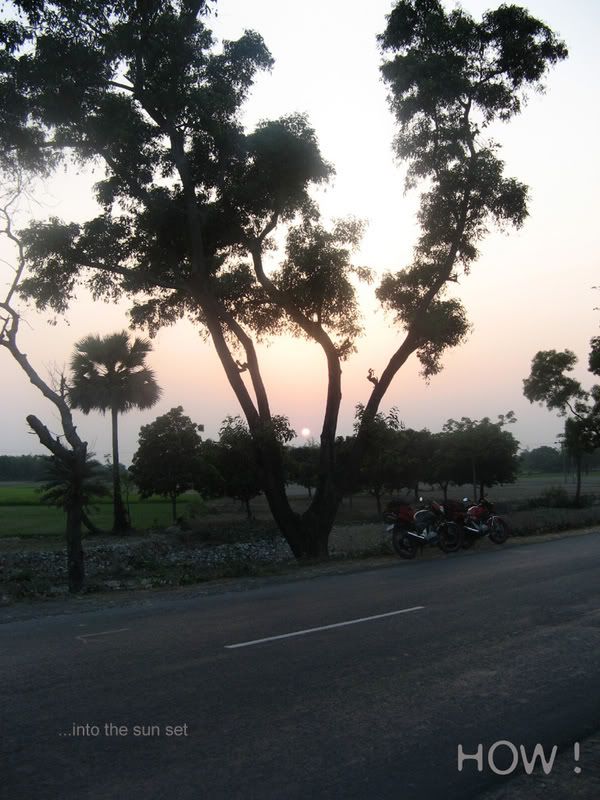 DAY 02
DALKHOLA – GANGTOK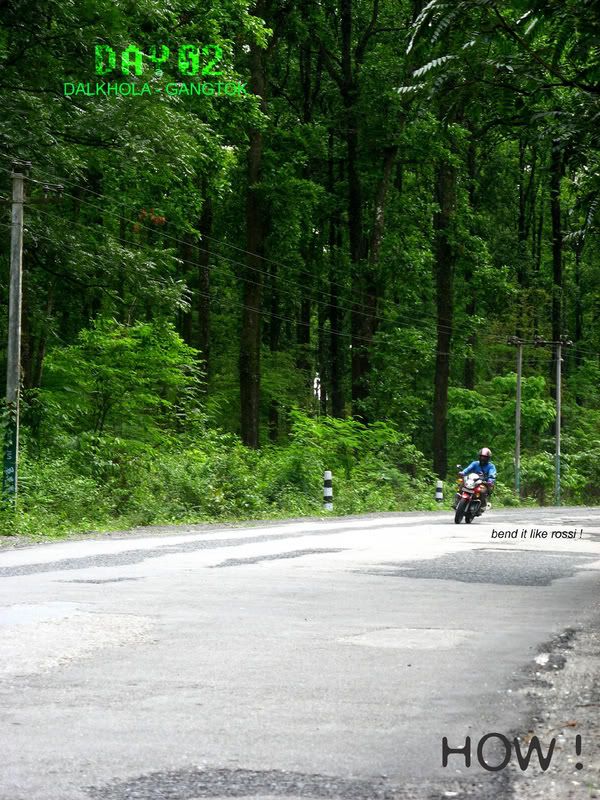 We started at around 5:30AM after checking tyres pressures and reached Siliguri at 9:00AM. All the while we were lagging behind by 125km.
Samiran our good friend, guide and ardent*Bike**follower who takes care of our
media contacts called at around 7:30AM, while we were enjoying our morning tea, he said that we have to give interviews to nearly 10 electronic and print media about our expedition and its purpose. So it was adding more owe to our schedule. We decided to make it as short as possible and urged them for same. Then too photo shoots, interviews, takes and retakes took nearly two and half hours.
Few of us changed the engine oil, did minor fixing on the*Bike**after refuelling the tanks to its brim at Siliguri.
At 12:30PM after a quick lunch we are off for Gangtok, it took us 6 hrs to cover that 125km as it was our first experience to ride on hills where the local jeeps were taking blind hair-pin turns without horn. It scared the wit out of us … "How could they take such moves and cornering without blowing horn?" we all pondered.
The road from Siliguri to Gangtok is decent enough to ride. We were going very slow rather I'd say we were crawling up !!! Cliff on one side, speeding local jeeps, hair-pin bents were there to give us a feel of Hill riding.
We all were trying to get the notion of Hill riding as fast as possible. After a few turning and climbing uphill with meagre hill-riding skill we decided to ride the rest on our instincts. A quick break was there to boost each other's confidence and share our insights about how to go forward. One thing we all noticed that the psychology for Hill riding and plain riding is completely different, here the drivers are very responsible, they refrain themselves from changing lane and stringent followers of traffic rules. So if a fellow follow all his driving line then there is hardly any scope of colliding even in blind curves.
We then cruised the remaining at a decent speed of 40kmph and occasional 50+kmph, thus maintaining an average of 25kmph. The mesmerizing beauty all around compelled us to stop more than scheduled.
Thus we reached Gangtok when it was nearly dark in the valley at around 6PM. Hustle and bustle of the tinsel town, capital of Sikkim, made us realize.."Hey, we've reached our first destination!"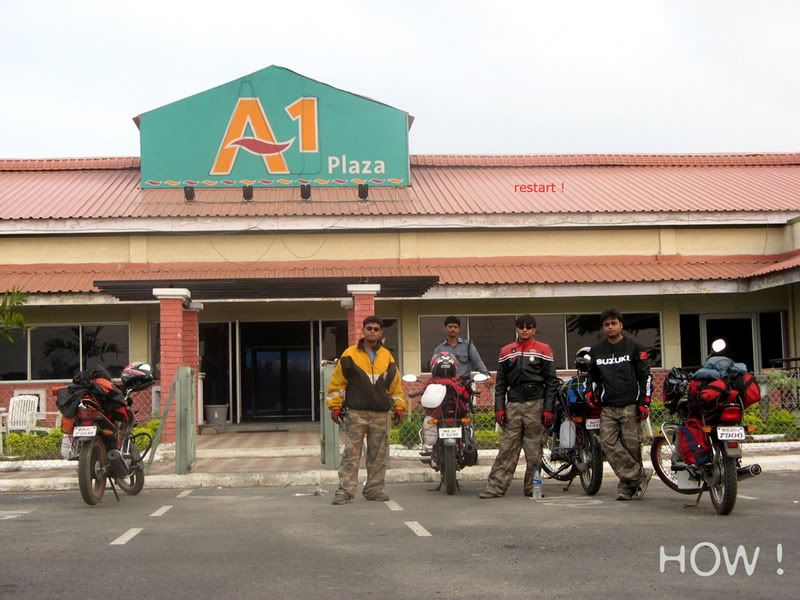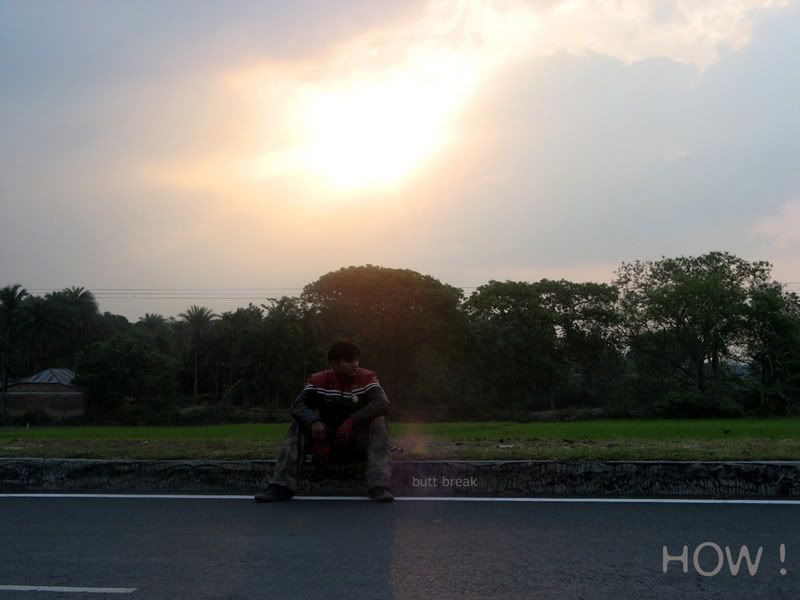 DAY 03
GANGTOK – TSONGU – NATHULA
At around 8:00AM we've started from Gangtok towards Tsongu(Changu) and Nathula.
There is a police check post in the way to Tsongu which has to be crossed before 1PM. We crossed it well within the time, while sipping in a cup of tea few localities warned us about bad weather at Nathula. So we decided to visit Nathula first and Tsongu while returning.
Distance from Tsongu to Nathula is about 25odd Km but the terrain and climate changes abruptly. The road was there to test our biking skill and experience. Though we were out in a clear sunny sky but occasional fog was there to greet us. Thick mist was hovering all around along with chilling crosswind made this terrain tougher than it seem.
After bypassing Baba Mandir we were heading towards Nathula pass. The roadside was almost covered with white snow. This snow was melting and forming a frost layer over the road... the dreaded black ice where skidding is part of the game of riding.
At 14,420ft in Nathula where temperature was around minus 4 degrees we all four stood at the brink of India – China border thinking with a sigh "VENI VIDI VICI".
Return journey was nothing more than engulfing. The mammoth Tsongu Lake barricaded by ice capped mountains can't be exaggerated in words!! While riding down to this place we could see the top view of this greenish whaterbed. Perhaps that's the best way to enjoy Tshongu Lake.