Triumph launches Limited Edition Rocket X, India to get 15 units out of 500.
Triumph Motorcycles launched the Rocket III in 2004 and now the company has now launched the Limited Edition Rocket X, to mark the 10th year of its production. The Rocket X is priced at Rs. 22,21,200 lakh (ex showroom New Delhi). The major differences over a common Rocket III are listed below:-
1. The tank and mudguards are stripped completely back and then undergo a 'grind' effect. There is attention to detail when it comes to the tank stripes and logo which have been carefully lined followed by the Jet Black base layer of paint, followed by a clear coat layer. The paint is left for days to rest and cure after which a total of 6 layers of lacquer are applied using ultra high solid paint. The paintwork is then highly polished and again left for 2 days to cure. Second polishing is then applied to provide an incredible smooth finish with amazing depth. This is the reason why the Rocket X looks immaculate.
2. The black finishing continues on the handlebars, mirrors, gear, and brake levers. The Rocket's signature 5-spoke aluminium alloy wheels have also received the black treatment and are skilfully finished off with a complimenting hand painted pinstripe. Now, onto the engine.
3. A personalized numbered side panel and a billet aluminium "Rocket X" name badge.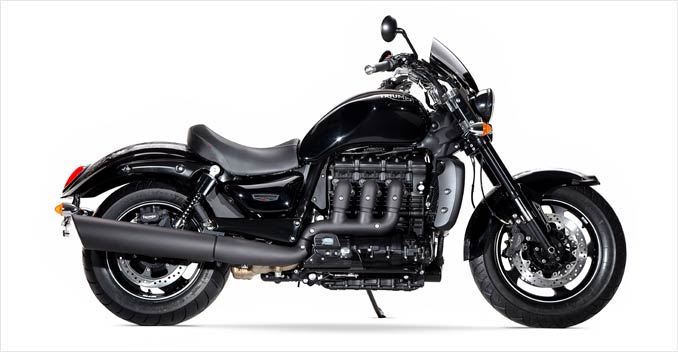 With its 2294cc, three cylinder engine sitting inline with the chassis, the Rocket X gets the world's largest production motorcycle engine. Delivering a 221Nm of torque at 2750rpm, there is nothing left for your imagination when it comes to acceleration.
Vimal Sumbly, Managing Director, Triumph Motorcycles India, said "In continuation to our celebration of achieving 1600+ customers in India, we are elated to offer this Limited Edition Rocket X to the passionate motorcyclists in the country. One in a million, with a personalized numbered side panel and a billet aluminium "Rocket X" name badge, the Rocket X is as exclusive as it can get."
Out of 500 units planned for the world, India will get only 15 of them.
Source: NDTV Website.
NOTE:
THE ENGINE IS THE SAME AS ANY OTHER ROCKET X, ALL OVER THE WORLD, because its a CBU import.