We all know what an extreme motorcycle the Ninja H2 R and Ninja H2 are (wow). The supercharged inline-4 engine is so powerful that it made the H2R the fastest production motorcycle without breaking a sweat. And that is not all. Kawasaki K-Racer, an Unmanned Compound Helicopter built by Kawasaki... is also powered by the same supercharged engine that powers the Ninja H2R!




Now we all know Kawasaki for their ballistic motorcycles but motorcycles are not the only things they make. Kawasaki Heavy Industries is a colossus corporation that makes energy systems, precision machines and is also into aerospace and robotics. Aerospace is the keyword here which simply tells that the K-Raceris well within the company's 'scope of products'.

Kawasaki recently successfully conducted a flight test of the K-RACER at Taiki-Cho Multi-purpose Aviation Park in Hokkaido. Here's all about it.

Press Release:

"In the technology demonstration using an unmanned helicopter, we aimed for high speeds that were not technically possible for conventional helicopters, and the test proved that stable flight was possible under autonomous control.

The test aircraft that has a distinctive configuration is called a compound helicopter. It has a main rotor (diameter: 4 m), and main wings and propellers on both sides instead of a tail rotor. The left and right propellers counter the torque associated with the main rotor's rotations and generate thrust to move the helicopter forward. In forward flight, the main wings share the lift and reduce the load on the main rotor in order to achieve high-speed flight which is not possible for conventional helicopters.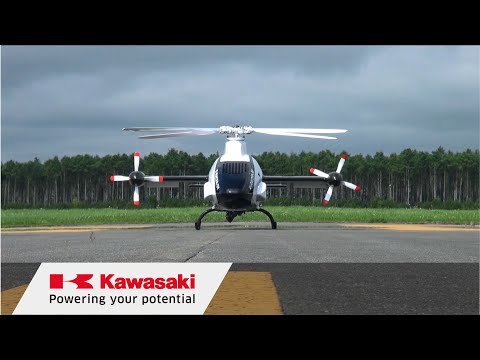 The test aircraft was developed by Aerospace Systems Company, and powered by the supercharged engine used in Kawasaki's motorcycle Ninja H2R, under the technological cooperation with Motorcycle & Engine Company and the Corporate Technology Division.

We have been introducing a wide range of helicopters, including the BK117 helicopter series, which plays an active role for firefighting, disaster prevention, and EMS (Emergency Medical Service) purposes.

We will use the results obtained from this test for the development of VTOL (vertical take-off and landing) vehicles, including manned/unmanned helicopters, and for the development of aircraft operation systems in conjunction with various services. We will contribute to society by making the most of our aviation technology, which includes the realization of VTOL systems in the future.

K-RACER: Acronym of Kawasaki Researching Autonomic Compound to Exceed Rotorcraft."

Source

That is a pretty nifty name some pretty nifty tech. But the bottom line is that the supercharged mill of the Ninja H2 is almost infinitely potent. As Kawasaki keeps coming up with new ways to utilize this engine, we'll enjoy the Ninja H2 that was recently inducted in the xBhp Garage.