Prolouge:
The ladies at the service counter were giggling when they answered in malayalam " Aa vellathil veena Vandiyano ?" ( the bike which fell into water ) yes I answered eager to know the status of my pet second bike. It is the culmination of a brief story of our first long ride on our impulse which included an unplanned and unbelivable off roading near the hills of Thenmala.
On MC road one of the better roads in kerala
Some ride was planned for the week end during the sivarathri on 20th Feb 2012. This time it was the turn for us to try out our impulse. My wife suggested let us head for " Rose Hills" some hill near the Palaruvi water falls, about 120 kms from our home where the only attraction was a beautiful view of the thenmala dam reservior. Nothing was known about the place other than there are only two trips by KSRTC buses in a day. Quite strange that a hill station should have only 2 trips.
the breakfast pictures at punalur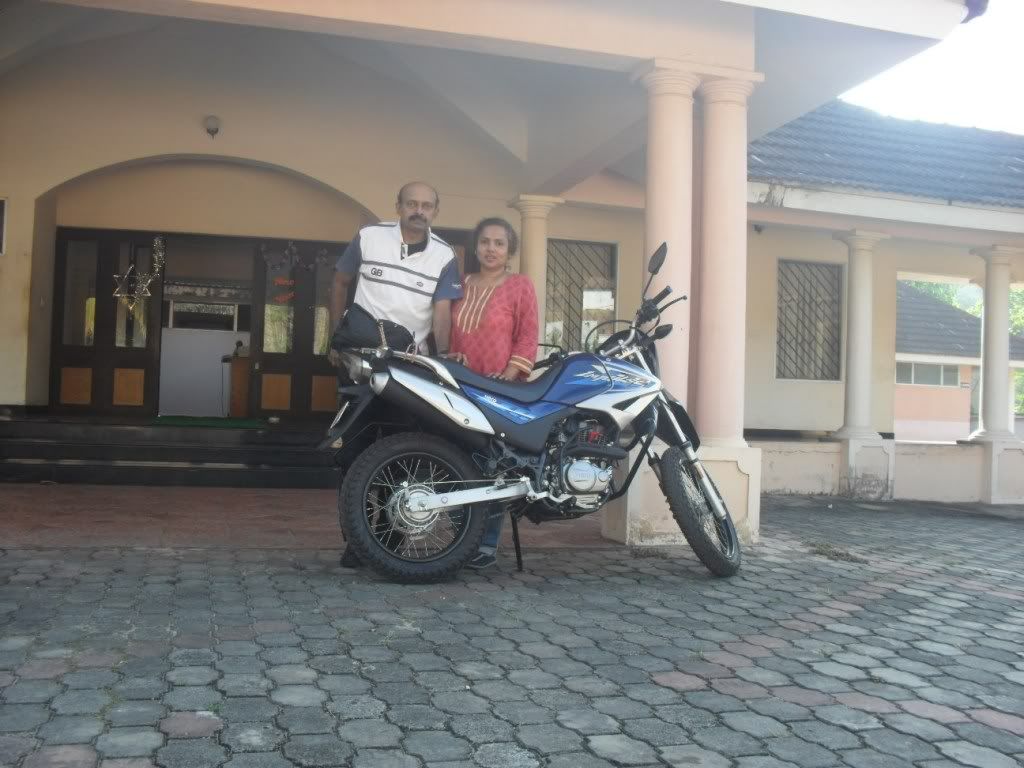 As planned we started early at 6-30 am and headed straight for thenmala via MC road to ayur,punalur,thenmala. Excellent roads and it was fun to ride the Impulse , but I missed my Ninja on this stretch as the roads were tailor made for a reasonable speed.The break fast was at punalur motel aaram and we started again reached the familiar old rail bridge asked for directions at palaruvi for rose hills. we were told go to go ahead till a jeep stand on to the right that's where the road for rose hills start.
We reached the place and yes thick forest with a loose track resembling a road. Absolutly No No for a normal bike ride. Bamboos in abundance which means thorns are a plenty, thick forest with hardly any vehicular /people you will be left alone in the jungle stretch no one to help you out. We had to take a decision fast to go up or ride back to some other place.Then we had our Impulse a bike tailor made for such terrain. It was a unanimous decision we will try and we started off.This is the road to rose hills I wondered and we started rolling into the dense forest. We were relaying totally on our bike's so called off rider tag to carry us through. And now started the most unbelivable ride, the road (if you can call it one) was totally broken with stones all over the place to start with then it started to get worse much worse only rocks,stones making up the forest tracks and we were the only humans in the middle of thick forest. Open road I mean a track on the mountain without any boundaries mean you don't have any room for error. You have perfectly hold your line and stay on the road else you simply vanish over the top. Electric fences I noticed earlier in some parts indicated clearly that wild elephants were common and I hoped that they may not like to give us company at 10-00 am morning.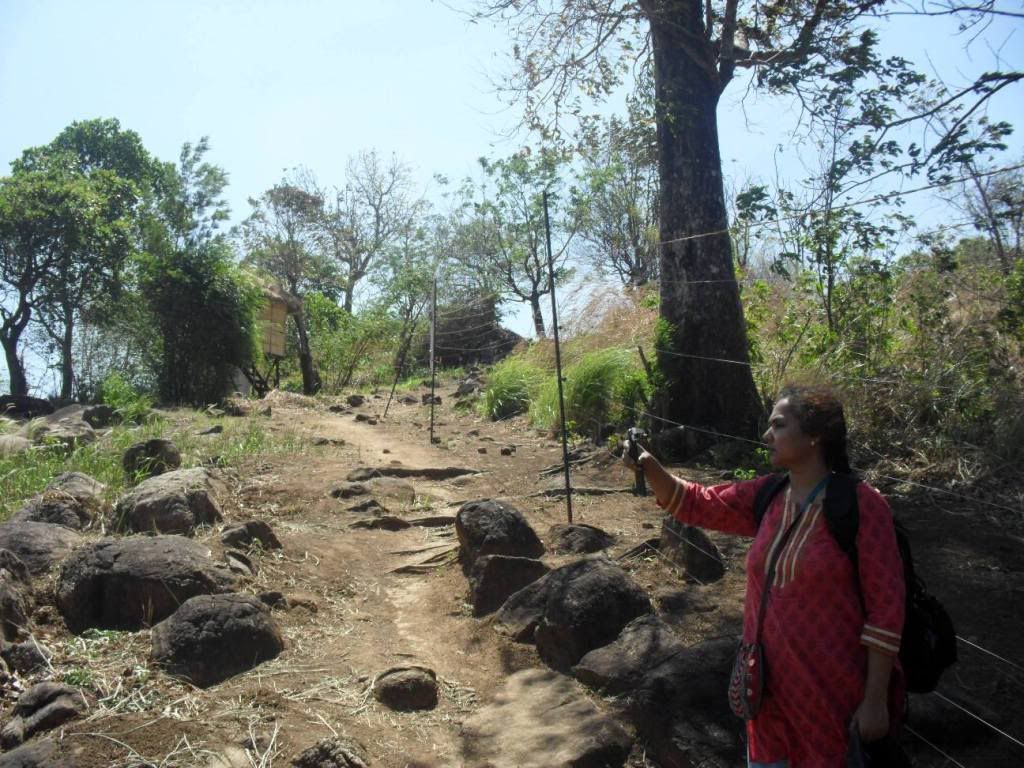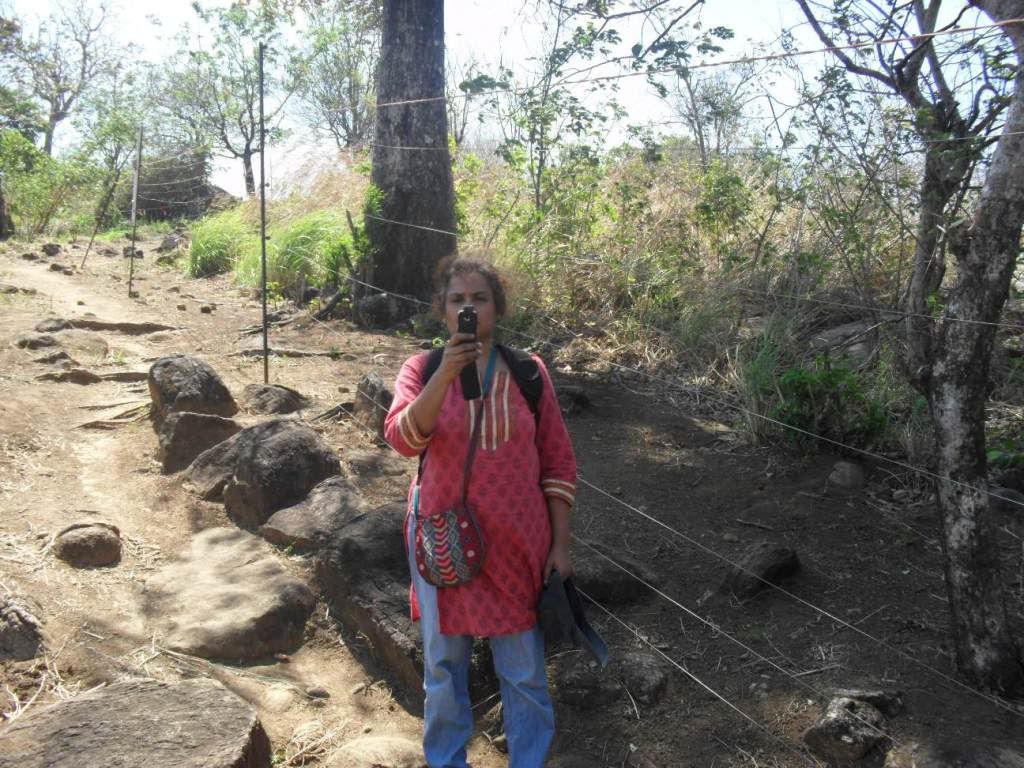 one of few better roads deep inside the forest.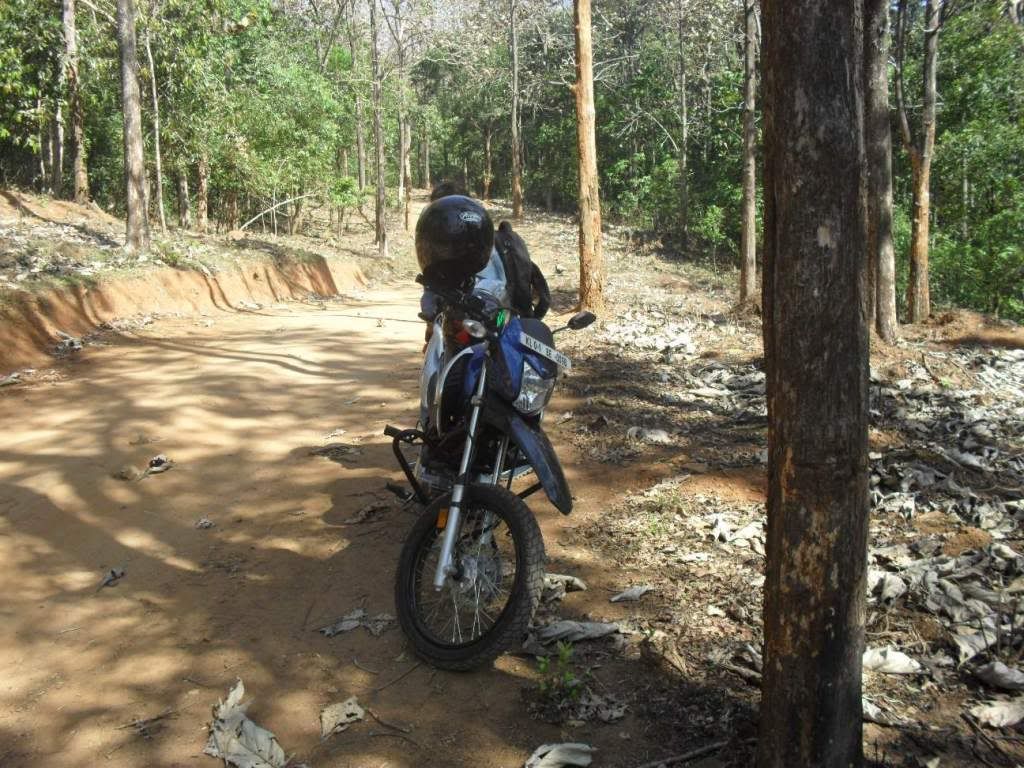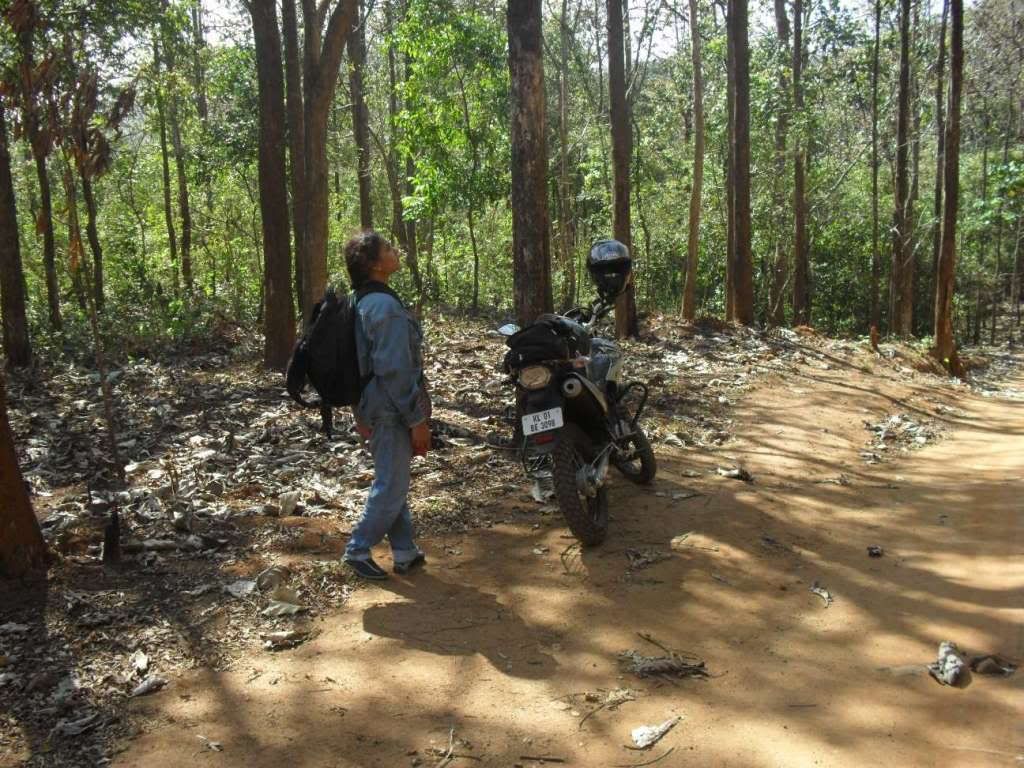 Two up mountain biking calling all my riding skills we managed to end up at a water crossing still in one piece after 45 minutes of almost total off roading. We were all prise for our impulse's brilliant ride and handling tackling all the big rocks without stalling and giving superb holding. Slowly entered the water and it was almost 2 foot (knee deep) bike got stuck on the rocks and I told my wife to get down and cross on foot which she did. Much lighter with great difficulty rode the bike across and we crossed the water. So much for that and we started part 2 another 45 minutes of hills with broken roads only impulse could have done and that too with 2 up. Finally we reached near the rose hills parked our bike and had to walk for almost a km and finally reached the top ( May be first couple to come up on a bike to rose hills) you can decide from the photograph if the view is worth the ride.
top of rose hills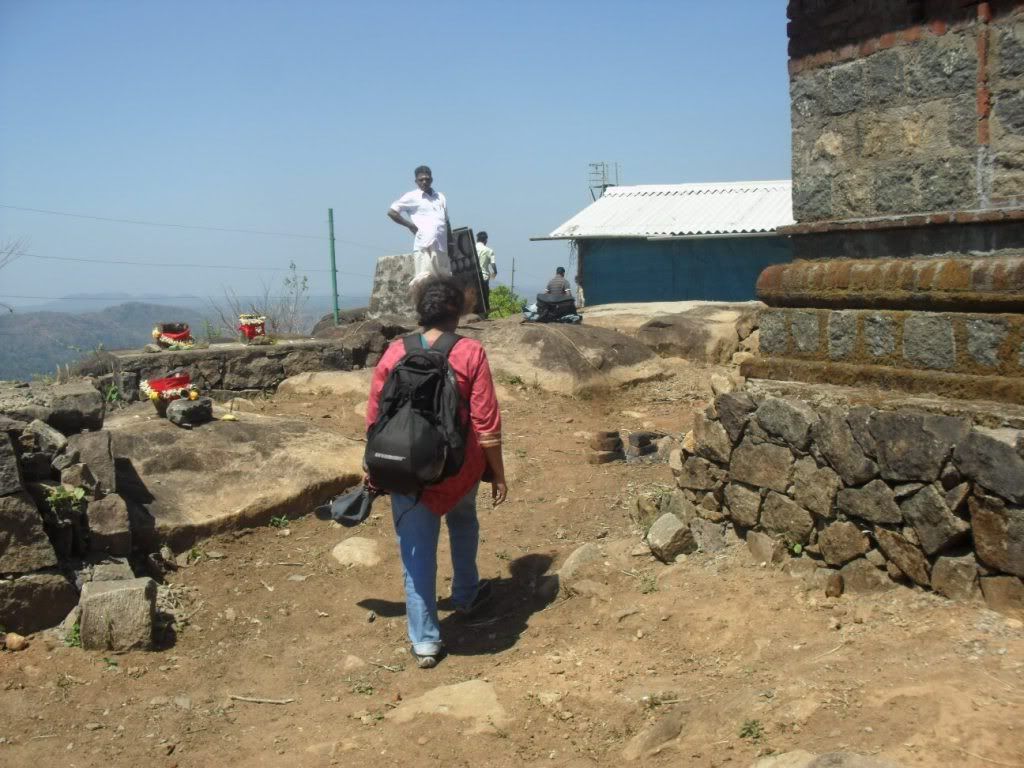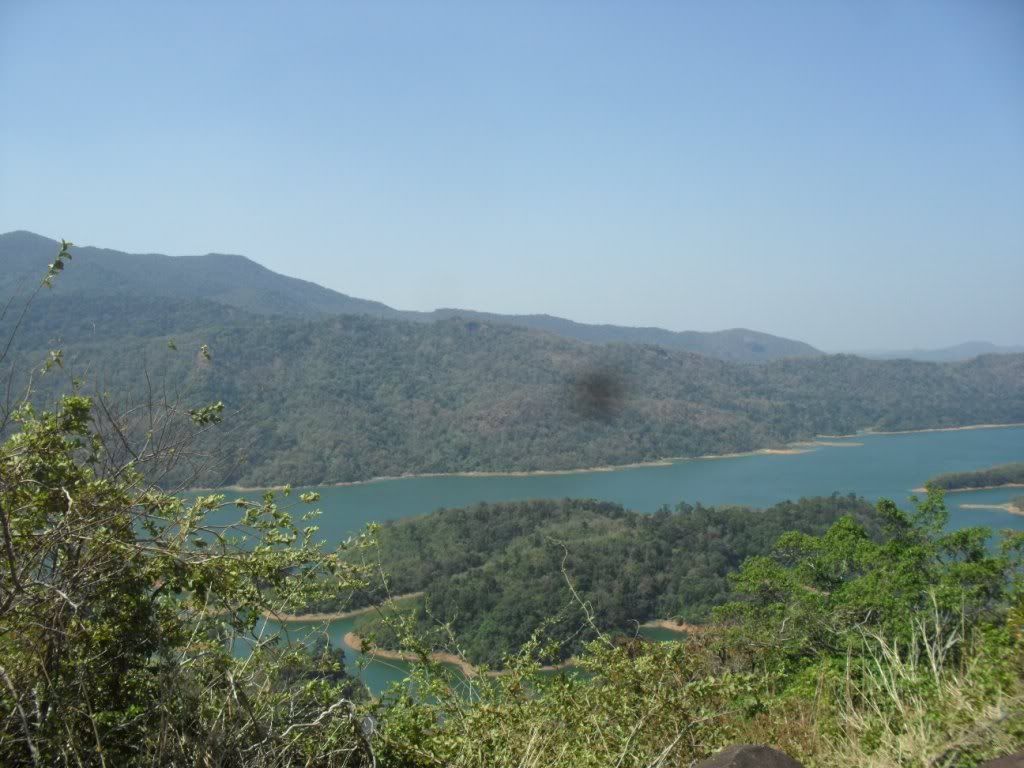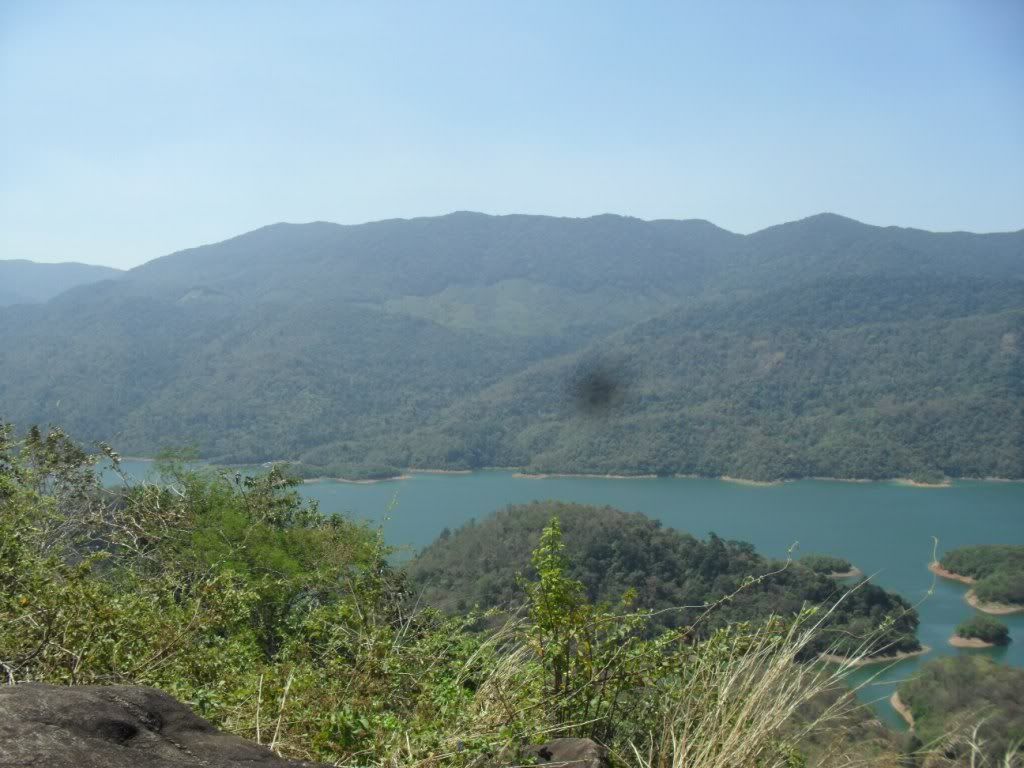 After about an hour we started back.
The pictures below are on so called better roads on this stretch any where else u could be thrown out of the bike while trying any thing.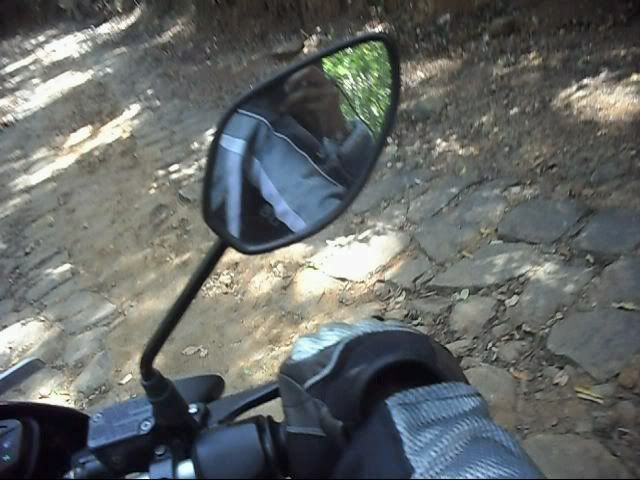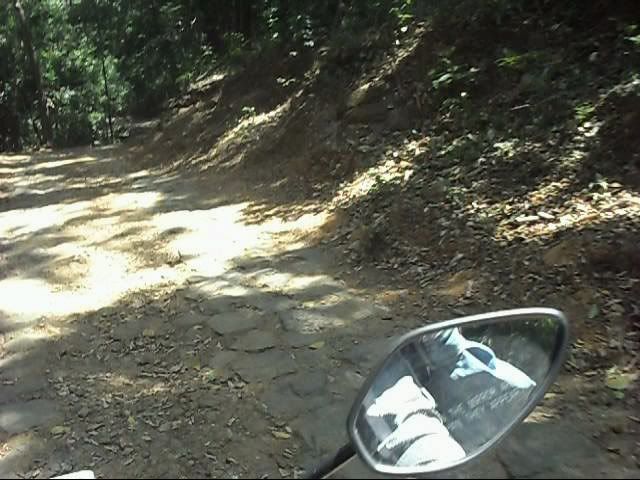 Again we could do a little better that our morning ride and we reached the water crossing in 30 minutes.
Water crossing in the hills has some unique traits,with crystal clear water the depth is dangerously conceled. Rocks that appear flat and smooth can be big huge boulders. So we stopped and I escorted my wife through one side safetly across on foot. I came back strarted the impulse and dipped the bike into the knee deep water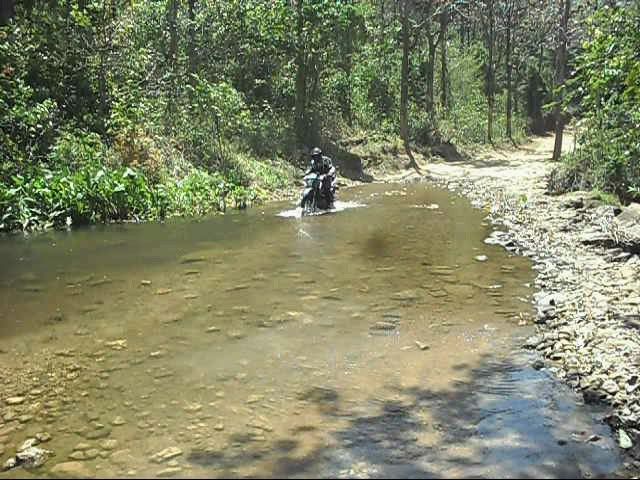 less than half way a huge boulder under water diverted the direction of my front wheel to the right and before I could turn the other way my front wheel landed in a deep cut and went down followed by me and the bike the depth was almost waist deep and inspite of knowing of my bad back and good strategies to push up the bike with legs I was forced with just 2 options leave the bike under water / pull the bike out of water and try my luck with my back. It was my bike that needed me I pulled her up leveled her and yes hurting my back, and meanwhile my horrified wife watching all this drama from the other side threw the camera which she was using ( got it in one piece)and came in the water knee deep caught the front fork and both of us somehow pulled and pushed the bike out of water and reached the other side.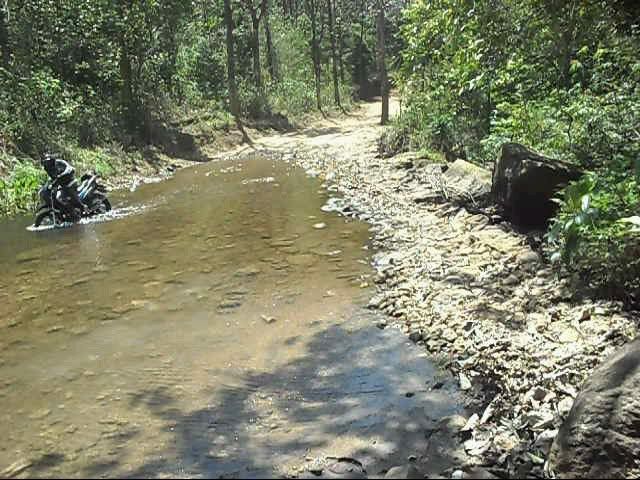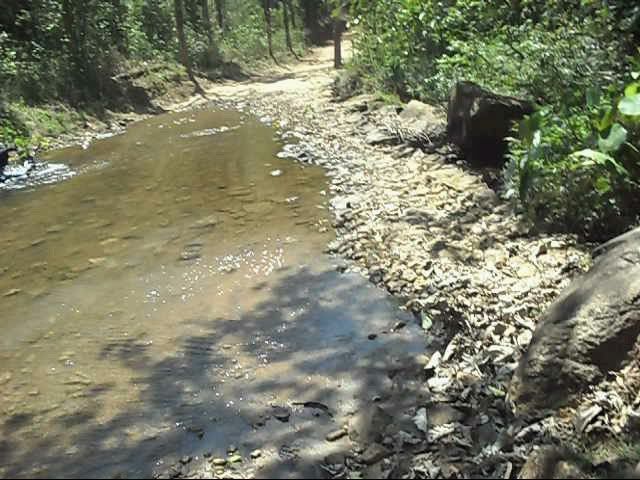 Parked the bike on one side of the track and I told her the ride is over. We were in the middle of no where and not a soul in sight. No phone range nothing except the sound of wind on the trees. What a place to dip your bike I was wondering. My wife wanted to walk further to check for some mobile signal , I warned her not to go any were alone as this was elephant territory and any appearnce of elphants it was better to stay together and see what best can be done. Time passed another 30 minutes we heard a motor sound much to our relief. I was a jeep chugging its way towards rose hills. He stopped on seeing us and we explained our plight. He promised to be back and take us out of the forest in another hour or so. It was some relief for us as no help for another couple of hours the only option was to leave the bike and start walking out of the forest which would have taken a couple of hours. So we trusted the jeep driver's words told our bike not to worry and sat under a tree and I took out my shoes and poured all the water out. Had some snacks with us at times like this all the small things you carry can be every thing. Water , biscuts,chips diet pepsi,. We had our pepsi and chips and recharged our tired bodies and I packed all the empty wrapper and can back in our bag as I never want to dirty the beautiful forest with our waste. So the story is now with a unknown jeep driver and his words that he will be back. After a hour and half he returned very much to our relief and now to load the bike. He was alone and there was rope in the jeep. with great difficulty the driver,myself and my wife all three of us pulled the bike and loaded her rear side into the jeep. The front wheel would not go in. some how tied up the bike and started off after a short distance we realised the bike would not stay inside the jeep for long. We stopped and to our good fortune another jeep came along which our driver stopped. The other jeep driver it seems was an expert in tying 2 wheelers on jeeps and he did a magnificient job of tying our impulse on to the jeep. I asked how he is an expert pat came the reply… he drinks and then drives his 2 wheeler and falls down frequently. Now next day he has to take the bike to the nearest work shop in his own jeep. So that's the secret . wow what a joke. We requested our jeep driver if he could continue the drive and drop us back to thiruvananthapuram which is a 100+ km drive. He readily agreed. That was a very welcome relief for us. So we sat in the jeep for the next 4 hours of slow jouney and I had phoned enroute and to my relief found that the hero motors are open . told them my plight and they said they will wait for me. Thank god for that too. And finally at 7-00 pm we reached thiruvananthapuram and straight went to hero motors and they were waiting. They unloaded the bike and took it down for service. A big big relief for us. The bike in safe hands we had no words for our god sent jeep driver who cheerfully under took the journey for 1500/- Rs when he could have demanded anything from us considering the situation we were in. wife insited on paying him more and she paid him an extra Rs 500 Rs as tip. Said bye to him we took an auto and we were back home. Yes I had sprained my back but things were okay to say the least. As of today my bike is back with me I love my bike more that ever. The ride will be remembered by us for many things but most of all it will be for the jeep driver who came out of no where to pull us out to safety and comfort out of a very difficult situation. God bless him and his family.
A small bit of our off roading video shot on one of the better road stretches by my wife sitting behind. there was no question of photography any where else as your life depended on me concentrating on the ride and my wife on holding on the bike without unstabilising the ride. hats off to her.
SAM_3681.AVI - YouTube
Some pointers for off roading in mountains/ with special reference to my story above
1. Please carry the right bike for the job. My Kawasaki ninja is an absolute no no . you require a scrambler type for the job.
2. Ensure the weather is clear,dry with no rain. Wet rocks to put it mildly is trying to ride your bike on an oil spilled road.
3. Every mistake teaches something. The incident of dropping the bike is my lack of judgment of the depth/rocks under water etc. a safer and better alternative would have been to cross the water on foot select the path and then trace that path to cross. I failed on this and suffered the consequences especially when I have crossed this water path on my way up the hill.
4. For off roaders the tyre pressure is critical. My tyre pressure was 22 psi front and 27 psi for the rear was perfect for 2 up off roading but a definite "NO" for a single rider. Around 20 psi for the rear or even less would be ideal for a 60-70 kg rider to get good grip on the rocks. In fact a couple of places my wife got down due to steep climbs with rocks I was struggling to get grip and skidding at the rear.
5. Please inform your exact where abouts especially while going into forests like the one above. On steep climbs on the hills when reaching the top see if you are having a mobile signal. Pass on a message. It may help sometimes.
6. Better to try such rides with 2 riders on 2 bikes. You can help each other in emergency.
7. Carry a puncture repair kit .
8. Carry adequate snacks and water. It helps if you get stranded.
9. Carry some first aid.
10. Wear all the gear you are comfortable with with a good pair of high anke shoe, and glove.
11. Last but not the least. Be extremely cautious when riding mountains on unpaved ummarked roads. Your failure/lack of visibility can easily result in your bike going down and vanishing on the hill side. If any doubt stop the bike check the road ahead and then ride. Respect the forest it helps.