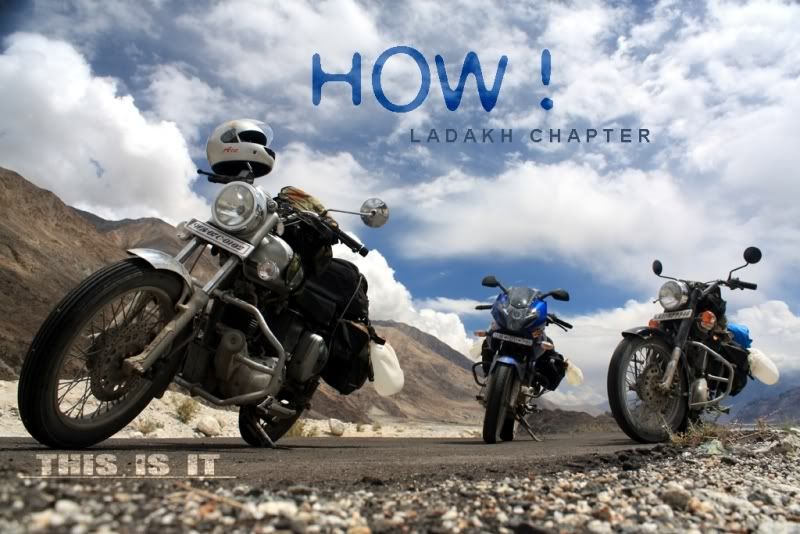 "All good things in life come to an end." These words were lingering in my mind, when I was about to take my last few turns on Srinagar – Jammu Highway. At every turn, I was leaning like mad to kiss the road with my foot peg. I was trying hard to feel each and every bit of this ride through the mountains in my soul.
Yes… It's the story of our Ladakh ride. The sweetest & craziest dream of our lives, which we have nourished for three years, just came true in past two weeks and now it is going to be over soon. It was like we were about to crash into the reality of the real world again from our dreamland.
Getting Leh-ed on your bike is not a big deal now-a-days as it's the destination of most the Bikers' in India. But anyways, whatever you do and wherever you ride, if you are not been there on your bike, your biking life is tad incomplete. This was our feeling when we decided to give it a try two years back after HOW! sikkim chapter was over.
It was tough to take a firm decision on this ride at that point as we started to scatter as a result of our demanding Jobs and suddenly at the first quarter of 2008, we four found ourselves in four different places in the world, thousands of miles away from each other, Stressed and frazzled with our every day boring schedule. Things were getting tougher as we were unable to take out time even for an online conference together about the trip. Apparently the chance of doing this trip together was looking quite bleak and we were going through the most difficult time of our biking lives. It was the time for us to taste the bitter side of the life. It was the time for us to realize that the sweet time of college life was over. The world demands a lot more and we need to change our priorities of our lives. Soon we were started to change ourselves as per the demand and in no time we became different. From a bunch of childhood friends, who had developed a similar thought process over the years, suddenly, we changed to four different matured men with different thoughts and different priorities. It seems everything was changing in and around.
Still, after all this, there was one thing in common among us. Inside the soul we all knew we have to do this ride, and we have to do this together. This was more of a compulsion than an option for us. And only that feeling, that one damn feeling brought us together after one and half year in Delhi on 15th of August '09 with our bikes.
"Something never changes, but something does!" This time we were three instead of four, as one of us had tried hard but not been able to make it this time. We missed you Sandy, we missed you a lot.