Noida
- Dehradun - Dhanaulti - Uttrakashi -
Harsil
- Gangotri
1100 KMs
Nov 07-10, 2008
The routefollowed: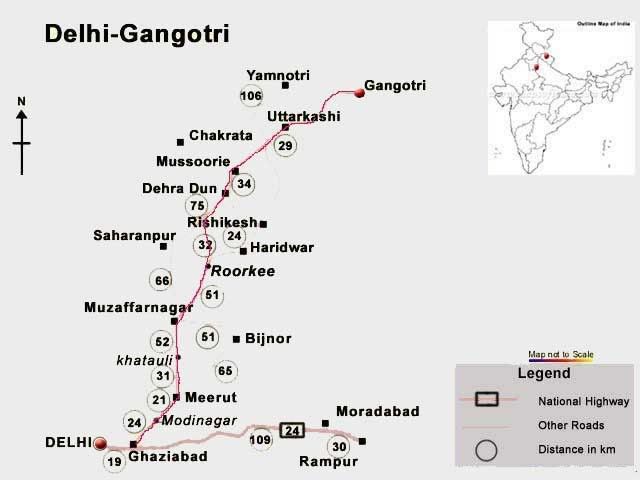 Rides-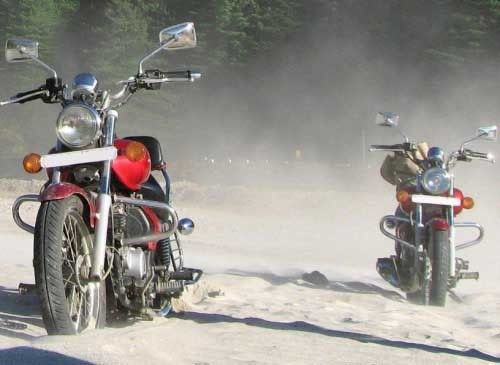 Avenger 180 DTSI
Avenger 200 DTSI
And finally the riders.......
Amit
"The Menace", 22,Delhi....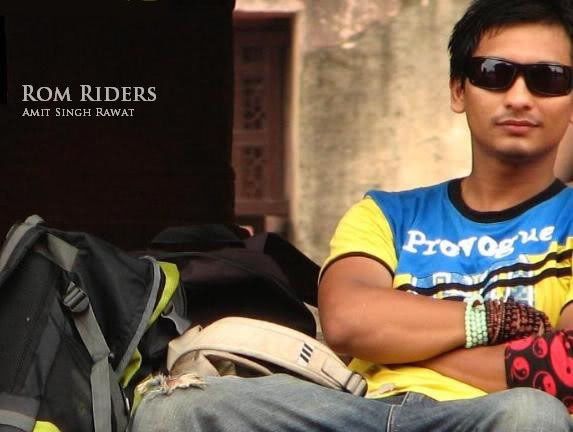 .....
Ashish
"The Pacifier", 24, Delhi
Shailay
, Finally, 24,Noida.....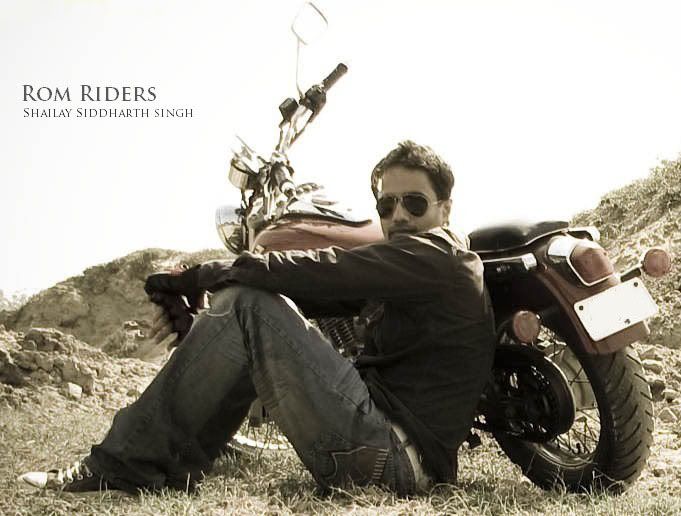 The log
-
November 4th proved out to be felicitous for me as everything turned out well and fell in place, at least in materialistic terms. First I got my brand new gloves from Reebok replaced, which I had claimed 3 weeks ago under warranty. The same day I got the Fastrack shades which I was looking for (found after a almost 3-months search) from a small shop near Delhi University's Faculty of Law (my college). And then at around 08:30 pm my saddlebags were finally delivered to me, which I had ordered from an online store a week ago. This made all things set for my 'ride-out'.
Before I begin this travelogue, I would like to thank two of my friends who were my travel-mates. Both of them managed to take some time out of their hectic office-home-office schedule, especially Ashish, as he (I'm sure his bum wants to kill the two of us as they have never had such long a bike ride experience as ours had). And a very special thanks to Mr Rahul Bajaj for giving us such a wonderful and comfortable machine (this we realized after completeing the ride).
Well I can begin this log with same day I recieved my saddlebags and all that stuff. Final plan was also drafted on the same day. The initial plan was like - Start on Nov 07th (Friday) to reach Dhanaulti by evening. Spend a day there, i.e., Nov 08th (Saturday) and leave on Nov 09th (Sunday) for Haridwar. Spend the night there and leave for home the very next day, i.e., Nov 10th (Monday).
But the way it turned out made it all more adventurous, exciting and thrilling at the same time.
Day 1/4-
7th Nov 2008, Friday
Amit left his home (Janakpuri, New Delhi) early in the morning with Ashish. Ashish spent the Thursday night at Amit's place, as they had to leave early. Both reached at my place (NOIDA) exact at 03:40 AM and we left for our destination in another 15 minutes. Early morning breeze was fresh and cold, though pleasant for our ride (except a pre-independence Tata truck giving Amit and Ashish a warm air facial from its exhaust). We stopped for some time just after crossing
Meerut
. Poor guys freezed themselves up in the fresh (read: chilled) water from a roadside handpump at 05:15 AM to wash away the Tata signature from their face.
Our next stop was
Khatuali
(Muzaffarnagar) where we had breakfast at
Cheetals
. It was pleasant to find a 1930 Triumph 498 cc motorcycle on display. For me it was definitely a beautiful place. We reached
Roorkee
at 09:15 AM where I received "the call" from home - "
Where are you?
" enquired mom. I had told her about the trip a couple of days back but she didn't know that I was planning to leave before 04:00 AM in the morning. "
I am in Roorkee
" said I. "
What? Roorkee?? Are you mad?
" Mom screamed. Then it took me about 10-12 minutes to tackle all such questions.
We resumed the journey again. Finally, at around 11:30 AM we got the first glimpse of mountains while approaching
Dehradun
. Pure greenery and cool weather replaced the polluted atmosphere of NCR. We kept moving with that elite swiftness of chill in the air. The raod was getting more beautiful just when I saw a warning board that indicated that "elephants are nearby". Sooner, we realized that we were riding in
The Rajaji National Park
. Our next stoppage was near a roadside dhaaba, where we kept our warmers away and put T-shirts on. Amit got his "
Shivji wali
" t-shirt on and as predicted almost every eye there bacame suddenly busy in Shiv-darshan. Roads that are built from Rajaji NP to Dehradun, through low foot hills, are one of the most beautiful and well constructed ones in that area. In a very short time we reached Dehradun where we didn't halt. We kept moving, and stopped at a tea stall 20 km from
Mussorrie
for breakfast. The proper hilly road had begun by then with sweeps and loops and round-abouts and u-turns.
Right before Mussorie there is a place called
Bhatta Tal
which is a small waterfall.
"
O nahayein?
" asked Amit screaming from behind.
"
Chal
", said I (as if I was waiting for him to say that).
It was 2 km down from the main road with a sloppy decline. Our '007' Amit
refused to remove his Fastracks even for a dip in the stream, placed a foot wrong in midst of it, slipped and said farewell to the glasses.
We then moved to Dhanaulti after tasting a slight slice of embarrassment at the waterfall where two female tourist happened to saw me and Amit during our all-male-aqua-games in our stone-age "dresses" (fortunately unlike Amit I was wearing the bare minimum). As we moved towards
Dhanaulti
, the landscape began to mesmerize us all with its breathtaking and splendid beauty. The place grew more lavish and mesmerizingly beautiful with every increase in the trip meter reading. It was around 04:30 PM The valley below was receiving no light and turned a bit dark. But the sunlight was there on the upper part of the mountains which made the scene quite picturesque. We reached Dhanaulti at around 05:30 PM, and went straightway to the
GMNV guest house
. The Sun bid us goodbye for the day and we had no choice but to stay back in the guest house.
-
Amit was concerned about the bikes. So when he saw few localites standing near the bikes, he got some fallen-off twigs and placed them around his motorcycle in a systematic manner humming some "
heeng-creeng-chamundaye-namah
" stuff . "
Ab tujhe koi pareshan nahi karega....ha hAA hAAA
" (No one will disturb you now), he said to his bike loud enough to make the localites hear him clearly. Back into the room, Amit requested me to take him to the attached toilet, when I was about to sleep in my cozy bedding.
"
Abe mujhe thand lag rahi hai, khud chale ja. Ye raa toilet
" (toilet is here, go by yourself. It's too cold for me to get out off the bed), I clearified.
"
Bhai dar lag raha hai. Chal le please
" (I am scared), said he.
"
Abe darr kyun?
", I asked
Amit: "
Yaar wo jo bike ke paas bhoot bulane ka totka kiya tha, wo sahi mein na aa jaye yaar
(what if the prank i played near the bike to invite ghosts to protect my bike turns real?).
A round of kicks and fists followed before we slept.
Pictures Day1/4
At Khatauli (Muzaffarnagar). I first went to Cheetals in around 1992 if I can remember. Every time I visit the place it seems better.
Dehradun-Mussorrie road. The begining of sweeps and loops and round-abouts and u-turns.
The slopy decline at Bhatta Tal. On Dehradun-Mussorrie route, just before the city of Mussorrie
Our decision to take few dips in water. BhattaTal.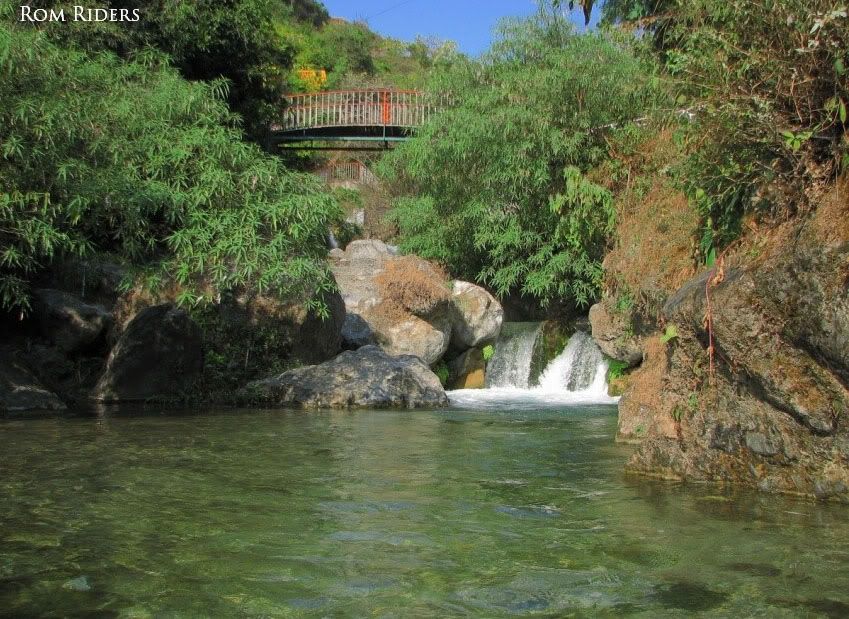 They water body at Bhatta Tal i.e. the actual small 'Taal' of Bhatta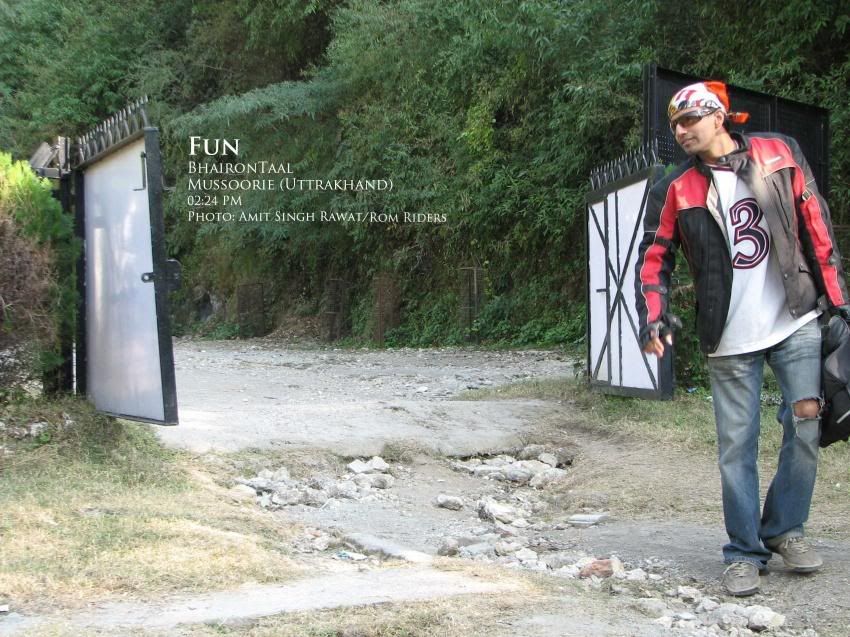 These were some funny moments...At BhattaTaal
Day 2/4-
November 08, 08 Saturday
Woke up at around 07:30 AM and till 08:00 we were all set to get ready to see Dhanaulti and around areas. At 08:10 Amit's Uttrakhand map came out of no where and at 08:15 Harsil-Gangotri became our new destination. It all sounded great except few problems-
-we didint know the route
-we didint know the roads or area
-we didint have any knowledge of temperatures there
-we didint have proper clothing
-we didint have enough cash
and lastly
-we didint know where the next fuel station was!!
However we left Dhanaulti before 09:00 for
Chamba
and suddenly realized that infront of us were lying the snow covered mountain peaks with all of theirs white might sparkling like fresh milk in the light of just-out sun. Three of us....SPEECHLESS!!
We stood there like fools with our eyeballs refusing to more elsewhere with our mouth open staring at nowhere else other than those heavenly beauties that stood infront of us. "Abe kahan aa gaye ye?? Itni jaldi.....????", I coulnt reply when Amit mummered this. Suddenly I realized, "of course! I am carrying a camera that can well can capture it. FOOL!!!" I have been to snowy areas and seen such peaks but the manner in which the sun was illuminating them.....woooff!!! MARVELLOUS.
An hour and a half took us to
Chamba
where we refulled our bike. We both lubricated the drive-chain and made some necessary calls (there was no network in Dhanaulti for Airtel. Hutch and Cellone worked though).
From Chamba started what I might call 'an extrusion to-dunno-where'. Few kms after Chamba begins what can simply be called one of the best quality roads we found on the trip into the mountains. The road is an 28-km stretch alongside the beautiful
Tehri
reservoir. However I found the smooth road very dangerous simply because its all the same for so long that one might tend to loose concentration. Landscape barely changes. I kept on riding when I found that I'm missing my co-rider, so I paused to take a break. They emerged after 15-20 minutes. Amit came to me and said, "Bhai main aur Ashish bach gaye aaj". "Kyun kya hua??" I asked. " Bhai bas puchh mat kuch. Bike Paatal-lok pahunchne waali thi aur hum Dev-lok". Later Ashish told me that they had a scuffle with a Tata Sumo on the same stretch which I didn't witness. They were a few inches away from falling into the reservoir… phewww!
After few stoppages we reached
Uttrakashi
which is almost 70 KMs from Tehri. Had lunch at around 03:00 PM and refulled again.
Gangotri
was a 100 KM from there. Now we had to take the call of continuing orf stopping very soon because we have had only 3 and a half or so hours of sunlight remaining after which it becomes difficult to ride or even drive......
Few KMs before Bhatwari, a man sprang up right between the road from no where with a red flag in his hand. "
....ruk jao! ruk jao! Aage mat jaao! yahin ruko!
". We stopped. "
oooo eedhar kya karta ai tu??
" Amit notoriouly asked him with a Nepali accent (the guy was visibily from Nepal). He said that there is a repair work going on and stones are falling on the road. He asked us to move our bikes little back. He just said this and BANGG!!! A big stone landed from above on to the side of the road and chopped off a heavy branch of a havey tree along with it straight into the valley. Amit was first to move his bike a hundred meter back. Well after 15 mins we were allow to go safely! We reached
Bhatwari
at around 05:20 PM.
And then we met this person......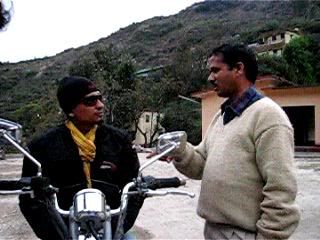 We met this guy who was a clerk in the tehsil of Bhatwari and asked him the route,etc. A very interesting conversasion followed between him and Amit-
"
Kahan jaoge aap?
", he asked.
Amit: "
Gangotri
"
"
Wo toh band milega. Sara shehar band milega
", he said
Amit asked, "
Hain? kya baat kar rahe ho? Ae sahi batao! Aur Harsil?
"
"
Wo bhi band hai.Ye sab October mein hi band ho jata hai
"
Amit again, "
Ae darao mat. Jhoot mat bolo.....
"
Me and Ashish started smiling as our 007 was getting into mood. However our main concern was the diminishing sunlight. But we were enjoying.
The govt. guy replied, "
Main jhoot kyun bolunga. Dekho bhai main pahadi aadmi huun. Pahadi aadmi sachcha hota hai. Aur main to pahad ka Rana huun. Aur Rana sachche hote hain. Ye to aapne bhi suna hoga (??). Kyun ji? Aap hi batao?
"
Amit: "
Nahi humne to nahi suna ji...
"
The guy: "
Nahi hum log sachche hote hain ji.
"
Amit: "
Bahaut acchchi baat hai
"
The guy: "
O ji Dilli waale bada ullu banate hain. O ji aap yakeen maano main ek baar Dilli gaya... . . . . . .
(then he took another 8-10 mins to tell his saga of his Delhi visit)"
Time was running out so I signalled Amit to end the conversation up and leave asap. But Amit's eternal quest of seeing ghosts madfe him ask a last question, "
Achcha uncle ji ek baat toh batao. Bhoot voot toh nahi milte hain yahan???
"
They guy: "
O ji hote hain par din mein nahi dikhte
"
Amit (swollowing his salaiva): "
Fir kab dikhte hain??
"
The guy: "
Andhera hone ke baad hi dikhta hain ji
"
Amit: "
mummmmyyyyyyyyyyy.....
"
The guy: "
O daro mat ji
"
Amit: "
Achcha! pehle to daraa do fir bolo daro mat??? main to chalun....
"
"
Kahan jaoge aap?
", he asked.
Amit: "
O ji bataya toh Gangotri
"
"
Wo toh band milega. Sara shehar band milega. Par aap ek kaam karo. Aap Harsil mat jana....Aap seedha Gangotri jaana. Sara shehar band milega. Par aap ek jagah jaana. Jagah ka naam hai Isha Mashi Dharamshala (i.e. Isah Maseeh- Hindi name of Jesus Christ)
", he said
I was continuing signalling Amit to leave immediately. Clock had struck 06:16 PM and sun or sunlight was no more visible. Just little twilight.
Amit: "
Achhaa ji samajh aa gaya. Isha Mashi Dharamshala. Tata ji tata
"
The guy: "
Nahi ji suno toh aap. Dekho main aapko isliye bata raha huun kyunki aap bhi pahadi aur main bhi pahadi. Toh aap to mere chhote bhai hue na?
(Amit belongs to Paudi-Gadhwal)
Toh aap aisa karna ki aap Isha Mashi Dharamshala jaana. Waha par aap....... . . . . .
(another 10 mins gone)"
Somehow he allowed us to move. It was already 06:50 and barely we could see anything without our headlights on. The sky was slightly visible tough. Gangotri is aronud 65 KMs from here i.e. atleast 3-4 hours if we could have managed 18-20 KMPH. Harsil was 35 though...
Road from there is in bad condition. Allow me to say that there is no thing which can resemble a road in practical terms. At best I can say it was "just" a path. A path cut in mountain which had mud, which had water, which had stones and what not. Forget 18 or 20, we were struggling to keep our bikes running in that zero grip "road". And above all the darkness was hardly allowing us to see the edge of the road on right. On left ofcourse we were protected by the mountain. After around 8-9 KM on that track we found another character. He was a guy of small built and was walking alone with his hands folded behind and head down. Why we were astonished was that the last settlement was 8-9 KM behind. Where was he coming from then? 8-9 km evening walk??
We slowed up a bit to have a look at him but his face was not visible. We didn't utter anything and neither did he.
I whispered to Amit, "
Amit, paahadi bhoot??
". He just shot away his bike of within seconds without replying to what I said. At that time we were entirely disconnected. No mobile network. We knew that there was a GNVN guest house at Harsil but we couldnt call them to inform not to shut gates. The next settlement we found was after 8-9 KMs. It was an upcoming hydro project. Amit came to me and asked, "
9 km peeche,9 km aage....bhai wo jo abhi mila the thodi der pehle wo aadmi hi tha na???
"....Poor guy!
We halted there for few minutes. I had a chat with a engineer who told us that they are making a 14km tunnel of around 15 meters of diameter which will go upto Bhatwari for hydro power project. The place was well lit and managed.
We again started at around 08:00 PM. At some place Ashish sreamed, "Eureka.....!!!! Signal aa gaye." Thank you Hutch. I called up my friends in NOIDA to get the telephone no.s of the Harsil guest house but unfortunately none was at home to access net. However Ashsih's call clicked at that time and we got the no., called and informed them. Finally after another half drive we reached harsil....
First we thanked God that we are safe. Then we made rest of the important calls. We knew that Harsil is a millatary area and there I could see millitary installations. An army personnel came up to us and I asked if we can get some accomodation there in Harsil.
"
Harsil?
", astonishingly he asked.
"
Matlab ji?
" I replied.
"
Ni matlab aapko jana kahan hai?
", he asked again in a helpful tone.
"
Ji matlab Harsil
", I said.
"
Fir theek hai. Yahan se 15 km padega Harsil
", he told us.
"
HAINN????
" we all three were spot on in saying this together.
"
Haan janab 15 hai yahan se
", he said
"
Bhai wo aadmi bhoot tha. Usi ne karwaya hai ye sab..
" Amit's voice came from behind.
However we started again. It was total black but from the noise ther river was making, we could realize that we were moving alongside the river and were on a right route. "
Abe kahan fans gaye yaar?
" I said to Ashish but the reply came from Amit, "
Bhai ye us bhoot ne karwaya hai sab..
" And of course it was freezingly cold. Our gloves were unable to resist the cold air from entering in. The cracks on the lips were getting painful. Skin of our cheeks had surrendered to the dry and cool air but no one was in mood (read: no one had strength) to stop and pull the moisturizers out from the bags!!
Although, one thing I must say. I have seen clear and bright moons in my village which are always better than the city moon but the moon we saw there was the most clear and brillaint moon I have ever seen. The cyanic light that was falling from it was helping us to demarcate the mountain from the sky. Stars were shining heavily. The twinkling was not there and the light from them was steady. Perhaps that would remain the most beautiful scene I would see for a very very long time. Amen!
We finally reached the guest house. They were waiting for us. We lodged in and slept immediately after dinner. Finally!!
Day 3/4-
We roamed around Harsil and went to Bhairon Ghati and Gangotri though didnt visit the glacier of Gaumukh as it was closed. As it was the day on which we clicked maximum of picture so I'll let the photos tell the log of the day.
(Rest of the Day 3 I hope to post soon)
Day 4/4-
We started at 07:00 Am with plan to move to Delhi only if we reach Rishikesh around 05:00 PM. The whole day was spent in riding and nothing else apart from few small breaks. We reached Haridwar by 06:00 PM after a 9-hour ride. Delhi was still more than 200 kms away but we diceded to move on. Finally afer another 6-hours ride we reached Anand Vihar ISBT at aound 11:45. Amit moved to Janakpuri after dropping Ashish at Geeta colony and I moved to Noida.
Easy said than done.......
Casualities of 4 days:
Amit's Fastrack
His Reebok gloves (which went off dunno-where)
and on last day's 18-hr ride-
Our neck muscles
and Ashish's bums!!!
(Rest of the Day 4 I hope to post soon)
Pictures of Day 2 and Day 3
(We didnt click much on Day 4 as it was all about riding)-
Day 3/4-