Hardly my planned trips go as planned.
Plan #1 - Rameshwaram and Dhanushkodi.
Hotel booked via StayZilla. I inform @
plasmabhai
that the stay is sorted out. Less than 12 hours later, StayZilla informs me that the booking is cancelled due to some bullshit reason. I infer they got a better deal.
Plan #2 - Rameshwaram and Dhanushkodi. (to search hotel after reaching there)
Took help from @
aargee
and @
phanikar
beforehand for some hotels and the plan was to hit them offline/on spot. @
plasmabhai
decides to get the front rim bend fixed he had seen few days earlier for this trip, but then he only saw his rim get screwed for worse!
He opts out in disgust.
Plan #3 - Pune - Lavasa - Lonavla - Khandala.
I have a dear friend of mine who had asked me a month ago if I'd come in the christmas weekend. I said, I'll see. Now, I'd almost decided on it.
Sadly, FB makes one lazy and I didn't have his number. FB was always there, I never called him in the past 2 years. Tried reaching him, but his FB account was showing deactivated!
Pune puffs off in thin air.
Plan #4 - Malvan - Tarkali beach, Maharashtra.
Call up a few hotels for booking. They ask not to come because there were people already sleeping in the streets.
Plan #5 - Sketch a pic of Scarlett Johansson on charcoal.
I was too pissed off already and I didn't want my Scarlett to look bad.
Godsend - Shashank Ashwin (@shashank ashwin). He says how about trips daily so that we could come back home at night and leave next day again! I smiled. That's what we did.
I was busy on 25th till 9 Pm. 26th to 28th was the plan, but again my plans never actually work. So, we hit the roads on 26th and 27th only. 800 odd kms of only fun and frolic!
A small trailer for day 1.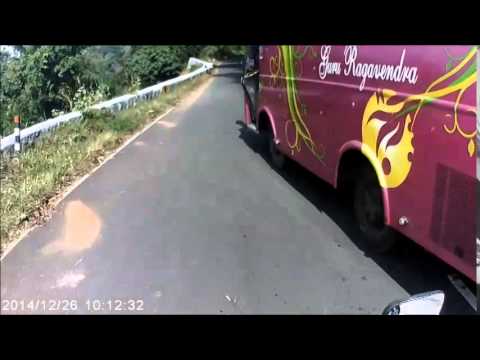 Though my thread wouldn't need an approval (yay!), I'd still give out teasers.
Approved!