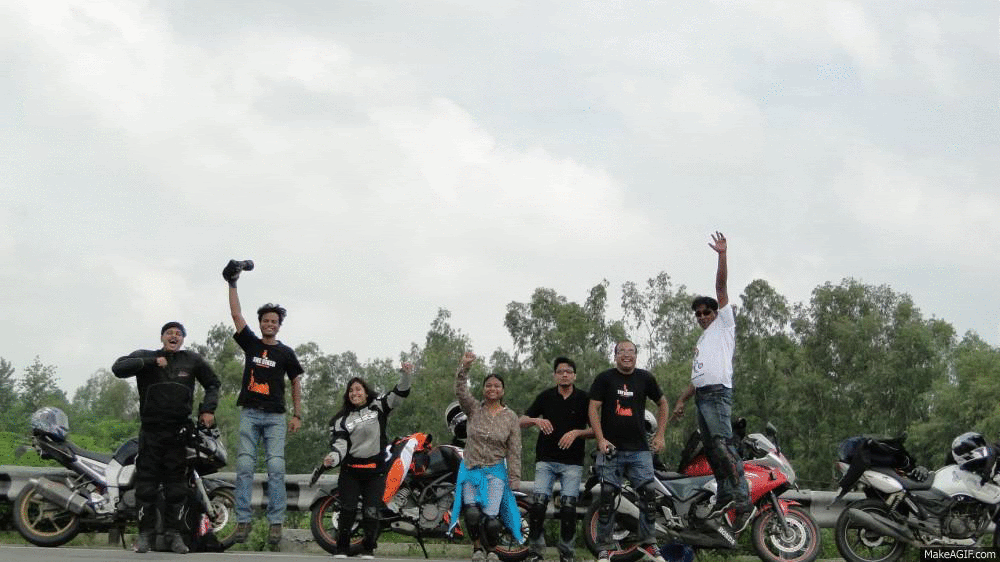 PREFACE:
There was quite confusion from the "idea" of this ride to which place to visit and many other things which eventually was sorted out.
First we thought of visiting Hatu, Shimla but thanks to L.P (Nitin) who informed us that the roads are all in bad shape. Then as I was thinking of other options within 350km range, a friend (Piyush Gaur) suggested Ranikhet as an option for an overnight G2G. So after getting conformation from everyone we started planning for Ranikhet.
We had almost 10days in hand prior to this ride and I was hell bent to take the new riders with us so that they get the bug of touring in them. Personally talked to everyone alongwitht the budghet of the trip and few people agreed for this trip. Some people backed out due to family issue, office work, budget and time constraint, but as I say we cannot force anyone, may be they would get a better ride than this in their luck *wink wink*.
Me and Devilish (Bishal) sorted all the issues with the help of T-Bone(Shekhar), Sid85(Siddhartha Roy), Pawanthegreat(Pawan) and we started planning for this ride. Devilish has been touring partner for long now and as he was out of the country for the past few months, he was craving for hill ride, but alas he had to back out due to some issues and that was for his good. No worries we will ride soon again.
So the riders who were all set for this ride were :
1.
Shekhar (T-Bone)
with Mahak as pillion on RTR 160
2.
Siddhartha Roy (sid85)
with Deepika as pillion on CBR 250
3.
Sandeep (titanic4u)
on CBR 250
4.
Pawan (pawanthegreat)
on Fazer 150
5.
Saurabh ([email protected])
on Duke 200
6.
Yours Truly
on RTR 180
Special thank to
whatsapp
here
as it kept all of us in touch and updated about the planning, although I seldom make plans for my rides but as most of the riders were going for their first hill ride , I had to be with them guiding what all they need to carry, and what preparations have to be made.
Informed Sunny Bhaiyya about this and he gave us a green signal with few pointers that we kept in our mind throughout the ride.
First thing that I made sure was that rider and the pillion have elbow and shin guards along with gloves and rain coat with them as it was going to be a wet ride. I personally told everyone what need to be carried in their bags. And got the printout of the consent form for every rider and pillion.
After so much of planning and preparation we started the ride on 8th morning 4.00am to reach Ranikhet , have an overnight g2g, strengthen our bike-ism bond and to have a break from our normal routines.
THE RIDE:
Ranikhet a small hill station, 1839m in height, in the district of Almora in Uttrakhand was the place that called us all for small overnight g2g in this rainy season. It is famous for its Apple Orchards , Temples and those who are avid admirer of food shows specially 'Highway on my plate' will love the samosas that one can get there.
Pics by tomorrow as I entered home just at 4.20am and wrote this.
I would request the riders to pen their experiences first.
A pic of the riders :
Names clockwise (L to R) : Pawan, Mahak, Your Truly, Deepika, Siddhartha, Saurabh, Sandeep, Shekhar