Story so far..


It's the 3rd time I was planning to hit north and I was not sure I could make it. I still remember In 2007 Bunny saying Hold Your Horses Rockkyyy! (to wait for HX ride) when me and Prabhu started to plan to ride to Himachal.I have been holding my horse till then. I couldn't make it last two years even after getting enough leaves. In 2007 I got Sciatica (kind of a leg pain), took one month bed rest and all the treatments ever possible . It never recovered completely, so only solution got back on bike – its all in mind.

Last year also got leaves but by uncle and cousin passed away
so couldn't make it .This year started planning in the beginning itself then dropped it. Then last month all of a sudden Rahul and Vinal and me started planning again just 2-3 weeks before the trip.
Every one got leaves. Then again comes back my body pain. I don't know why when ever I think of going for a ride, this guy just pops up from no where. I started exercising in the morning. But still I had other issues which could stop me from this trip. We were selling our house, so I had to be here for registration and also had some financial problems for buying a new house. Without solving there was no option for me to go for the trip. I was all tensioned packed days. Being from a superstitious Gods own country, if anything fails two times there is more chance it will fail third time also in a big way. So I was a bit skeptic, so I kept telling If not this year next year .But finally we sorted out everything with some help from friends.
I had to go to Calicut urgently to for some banking formalities just 2 days before the trip. Since bad luck always follows me, it was raining hard over Calicut. And there were land slides in Wayanad and also it was flooding. So all the busses to Bangalore were canceled. There were obstacles after obstacles. Taking train would be a long route via Coimbatore. So didn't take that option. Finally I had to catch a flight to Bangalore on Friday. Even the flight was uncertain due to weather. So I was not sure If I can make it next day. Finally reached Bangalore.
I had not told my parents till I went to Calicut that I am going for the trip. I dint want my mom to have sleepless nights thinking about me, so decided to tell at the last moment. To my surprise they didn't oppose in fact they supported me, dad started asking about the routes and plan. So I too was very happy.
After reaching back in Bangalore, started the packing. I had already kept everything in place, just had to keep it properly. So here we are finally starting the trip, so from now on less text more pics
.
Day 1: Bangalore – Pune.
We started by 3.30 am. Our Plan was to reach Pune as early as possible and based on it crash for the day or continue further till Mumbai. As you know plans never work we reached Pune so called Hapadsar where my friend stays. By friend was in Bangalore and was taking a flight by 7:30 pm to Pune, and that also got delayed by an hour. So when we reached Hadapsar after riding thru the busy traffic he flight was about to take. So we had just just 2-3 mins to guide us to his flat. Then also he had to talk to his neighbor so that he gives us the key. Then on it was like shows in MTV when you get clues and reach your destination. Finally managed to reach his flat and got the keys. To my surprise it was a big enough room and was bit neat too. Didn't even bother to have food since we were so tiered. Had some biscuits' and cake. I crashed on the sofa mean while Vinal and Rahul slept inside the room. May be by 10 I hear some one knocking the door… no I didn't hear it or did I ?. But don't know how I opened the door and here comes my Pal.
He was so excited seeing me and kicking me , Oh my god I couldn't take it I am soo tiered. He was not allowing me to sleep. Finally after he felt its enough he let me sleep and went to bed. Todays ride we got some rain in some part. Initial 400 km was kind of boring for me not so enjoyable to ride. After that it was superb roads.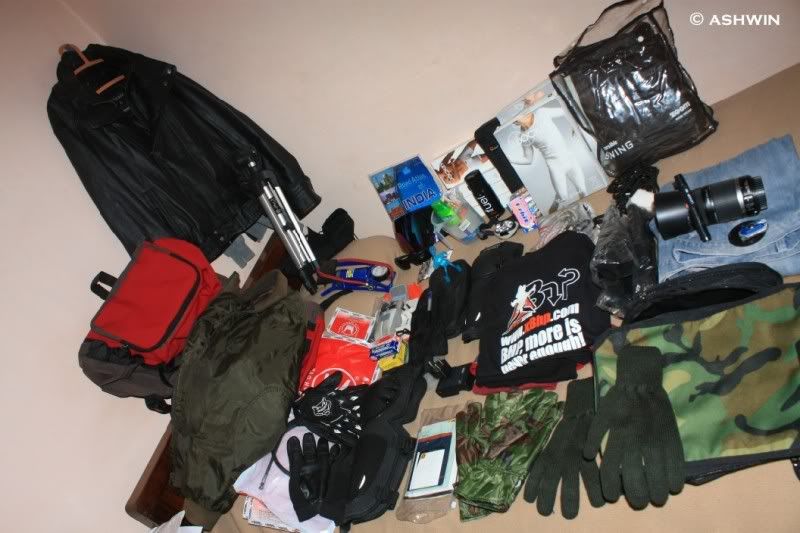 All packed in to this